With 2013 now gone and at the start of a brand new year I have had a look back at my metal detecting experiences and finds for the past year. First thing that comes to mind when I think back is the amount of new people I have met through this wonderful hobby. Either in real life or on the internet, these people have helped and encouraged me in my times of learning and also have been great fun. So at this point I would like to wish everyone a Happy and Prosperous New Year and Happy Hunting.
Looking at my finds I am very pleased. Yes I have drooled over the amazing finds I see others have dug on the internet forums and looked at my days finds which are normally run of the mill, but seeing what is still being found on the beaches and out in those fields fills me with hope and excitement. Mind you, I have had the odd brill day and really when I think about it any metal detecting day is brill when I find a button, copper coin, a buckle or some other weird and wonderful object. Its all history and to find and hold something that was lost years ago and being the first person to see and feel it is a great feeling that's hard to beat.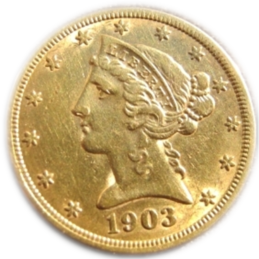 This Gold 1903 Five Dollar American coin has to be my favourite coin to date. I found this coin here in the UK on pasture only 3-4 inches deep and it was laying on its edge. Found it using my Nokta Velox One metal detector. My only gold coin I have found so far and the thrill when I dug it is still with me now as it was the day when I found it. To find this coin out in the middle of nowhere makes me think of just how many gold coins are out there waiting to be found. Hoards aside, just look how many gold coins get dug up here in the UK and around the world. Every week someone posts up on the detecting forums of another gold coin found. Sometimes many are found in a week by different detectorists. They are out there, thousands of them just waiting for us to find them.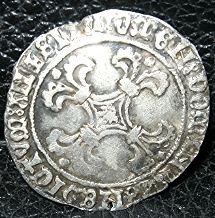 My second best coin found last year using my Ace 250 metal detector was this Silver Hammered Charles the Bold 1467 - 1477 Double Patard. A French coin found here in the UK. I did read somewhere that these coins were imported because a lack of our own coins at the time. Hard to believe that my best two coins to date are from outside of the UK but found here. The only other silver heammered coins I have found have hardly any detail on them and are mainly known as love tokens which you can see on my 'Best Finds' page.
Seeing the amount of silver hammered coins found by others with good detail I feel confident that's its only a matter of time, and luck, that I will find one.
As I had some time this morning I got out all my containers and had a bit of a count up. I have containers with Buttons, Buckles, Musket Balls, and containers with odds and ends in like Coin Weights, Thimbles, Tokens, Horse Bosses, and a host of finds made from all sorts of metals. As you can see, if the object I find is coin or artifact of any sort, I keep it, the scrap I will cash in.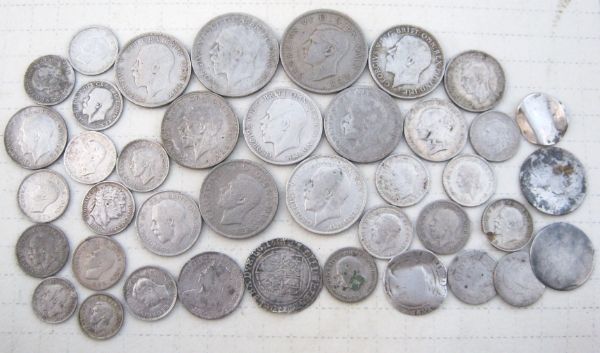 Here is a photo of all my Pre-1947 Silver coins found last year. As you may know, from 1947 to 1971, some denominations of British pre-decimal coins issued for circulation were "silver-colored," these coins were made of copper-nickel, and contained no silver. There are a couple of hammered there also a couple of Victorian and a George III 1820 Bullhead Sixpence and of course my Charles the Bold. Total Milled Silver: 2 half crowns: 7 florins: 5 shillings: 18 sixpences: 2 silver threepences.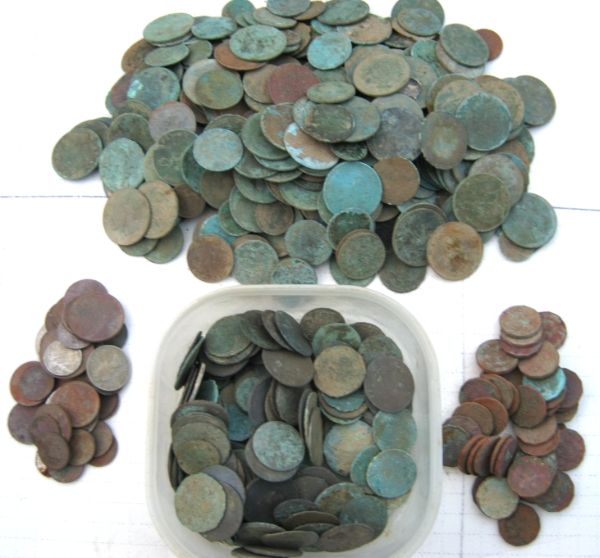 Just out of curiousety I had a count up of all my other coins I found last year. They are mostly what we term 'Grots' what a few detectorists throw away. As I said, I keep everything but unrecognizable junk objects. Top pile and bottom center of coins in the photo are all pre-decimal pennies, half pennies and farthings, Total of 459 coins.
Bottom left are post 1947 florins shillings and sixpences, Total 38.
Bottom right are threepenny bits, Total 41.
For entertainment purposes I am going to keep a note and try and beat those totals by this time next year, so will pack away all these coins and start again.
Here is my last years finds of jewelry. I did find a few junky items of jewelry but here are the gold and silver. Always a pleasure finding these and most of them are beach finds but a couple were found inland.
8 gold and silver rings: 6 pendants: cufflinks. The top left ring has a gold face on a silver band and was found same day as my gold five dollar coin was found. What a day that was, my best ever metal detecting day.
So here's to 2014 and I hope to do better this coming year. Its all down to luck mostly and good research and permissions. Saying that, I have no good permissions of my own. All the above finds came from the couple of permissions I did have, but have now really fished them out and hardly finding anything decent there now. A lot of finds came from club digs, the odd rally and invites to other peoples permissions, and of course the beaches.
So maybe my New Years Resolution this year should be, 'FIND NEW PERMISSIONS'.