Managed to get out for two hours beach detecting today. Same beach as yesterday but because of the low tide time and the fact that I have to go to work later this afternoon there was not much of a window for me. But you know the feeling, just have to try it. Mind you, I say two hours detecting, take away an hour chatting to fellow detectorists here and there I must have only detected for an hour, but was an interesting day swapping stories with the two chaps I met.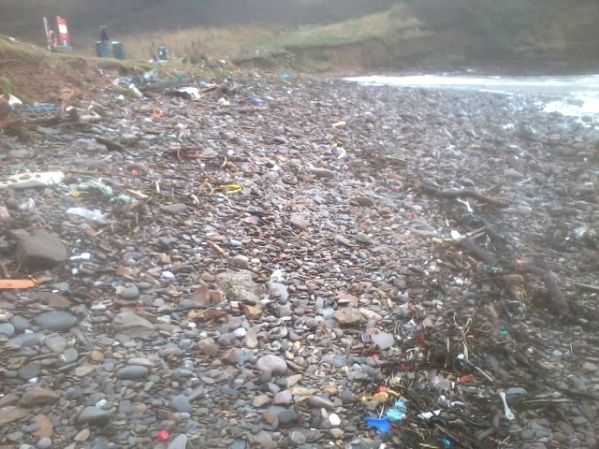 As you see in the photos the white water was gushing in on a strong wind. The tide was taking ages to drop because of the wave surge, soon as you thought it was out a couple of hundred yards,,, woosh, a wave would wash right up the beach again. So I was confined to the top of the beach for safety reasons. Again today the sand was all gone, but I know this tiny beach has been done to death over the years as the slim pickings showed. In that hour I did manage to winkle out 5 coins, as shown, in very bad condition. Two pre-decimal pennies there and a half penny, a grotty 1p and a 1927 sixpence in bad shape. Still, I never came away empty handed, I took my CS4PI hoping to get out onto the wet sand but as I say, the wave surges stopped that.
***UPDATE***.
...After putting today's finds up on the MDF Metal Detecting Forum a keen eyed fellow detectorist informed me that the sixpence above looks fake, and to test it just hold it and with a little pressure to see if it would snap in half. This I did, and low and behold, it just snapped in half. I couldn't believe it lol. Apparently it was made with layer upon layer of silver paper compressed in a machine. Another chap put up a link about this
http://www.youtube.com/watch?
Oh well, best I got out of today was a great bit of knowledge, one is never too old to learn.