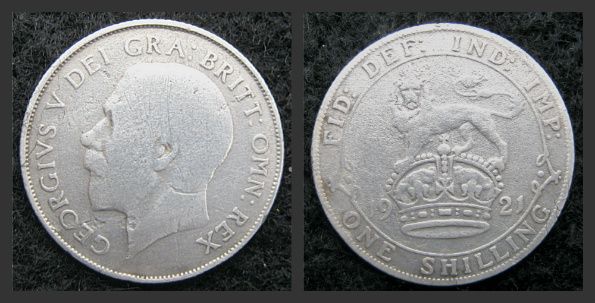 This George V Shilling dated 1921 saved my day.
We the South Hams Metal Detecting Club held a mini rally yesterday at a small Village on the edge of Dartmoor. Thank you Jason for organizing it. The amount of £200 was raised for the Village church and I believe we got some more land out of the day for another dig in the future when some crops are off. So some nice ploughed land to look forward to.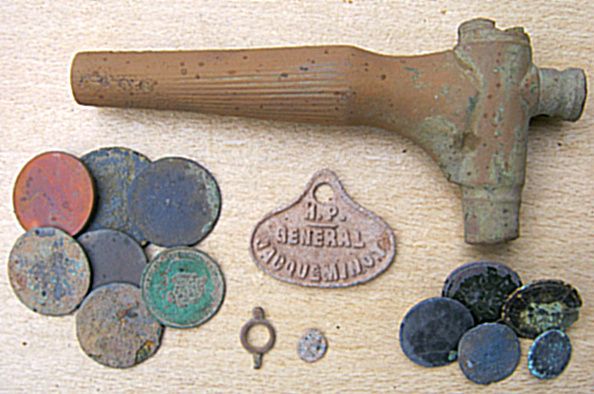 My other finds from yesterday: Barrel Tap, Grot Copper Coins, Bronze Plant Label, Watch Winder, Tiny something? Tombac Buttons.
The land we had yesterday was all pasture and I found it slow going at first, just finding the odd grot coin and nothing of interest. There was a time around midday where I started to doubt my settings I have been working on. But I noticed I was finding bits and pieces of non-ferrous targets. A copper halfpenny I dug was easy 8/9 inches deep with a lovely clear signal, also noticed I was finding very large objects as well as tiny ones. So I put it down to not walking over anything decent and carried on with my settings as they were. It was well into the afternoon when I was rewarded with a bit of silver, well, 50% silver, a George V Shilling dated 1921. Shown in the first pic above. I was happy with that as these modern'ish silver coins always perk me up.
This bronze looking name thingy had me puzzled until I was at home and able to google the writing. Turns out that H.P. General Jacqueminot is the name of an old Hybrid garden Rose. First bred in France in 1853. How many of you budding gardeners knew that.
So I think I can safely say that this item is an old plant label, and not the name of some famous General who may have lived in the Village as I thought.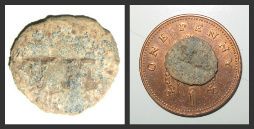 Hows this to show that the Deus is capable of finding the smallest of objects. Here is a tiny disc shaped coin with the letters that look like VM, or if you turn it upside down it could say WA.
Only measures 1cm, took me ages to find it with my pinpointer in the mud yet my machine was giving a good signal. Also lost the blooming thing twice with my clumsy fingers trying to take a pic of it. What it is I'm not sure, maybe a token type of some sort or a button.