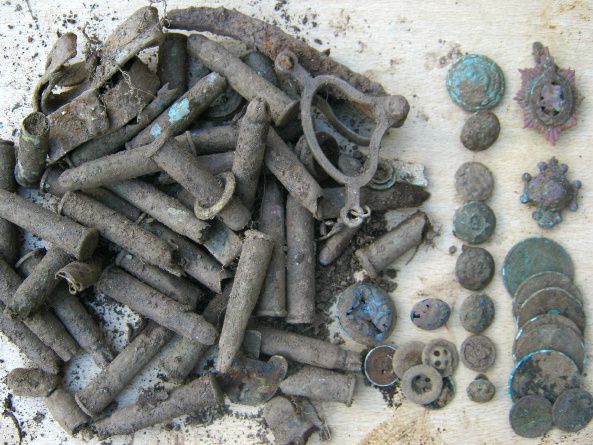 Total finds for the day.
Yesterday (Tuesday), I went back to a site I now call my Military Site. Lately I've been finding a lot of military buttons and badges there so decided to have another crack at it.
There was a light dusting of snow on the ground and the ground itself was only frozen on the top one inch, so digging wasn't a problem. Once the sun came up I felt quit comfortable and warm with all the digging and scrambling under branches from the trees.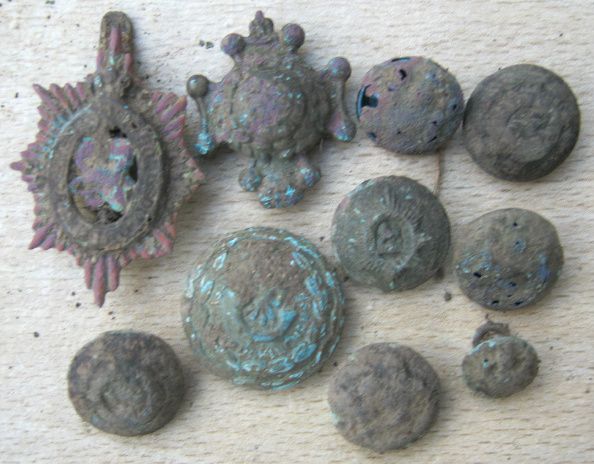 Buttons and a couple of badges. The acid soil conditions have really ruined them.
As usual the shells came thick and fast, even a few live blanks came up along with a few buttons and other military scrap. This area sure had seen a lot of military training and I was hoping for a silver or two. But alas, the only coins I dug again were old grots, and the acid soil effected the condition of the copper coins and buttons.
The area I'm working. Not too bad at this time of year as most of the bushes etc have died back leaving a few clear areas to detect.
All in all it was a busy hunt again with plenty of digging and well worth another visit to the area. Every time I go there I try different settings trying to find a setting on my Deus that I'm happy with. I'm getting there slowly and looking forward to our club dig this coming Sunday on a farm where I can try out my latest program.
Wednesday 4 February 2015.