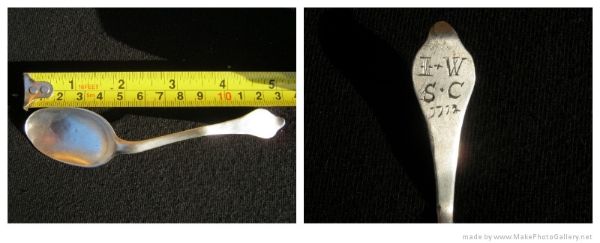 Dog Nosed silver spoon dated 1712 with the initials I-W-S-C inscribed.
After 2 years my one and only treasure find is finally coming to a close. I dug this silver spoon on pasture with my Ace 250 back in February 2013. Because it had a percentage of precious metal and was over 300 years old, by law I had to declare the find.
During these 2 years I have had 5 letters keeping me informed on the progress of the spoon through the system. 1 to say they received it, 2 to say it was declared treasure, 3 to say a museum is interested, 4 to say there will be an inquest and 5, 'this week' the amount of the reward.
The amount of the reward is £60, split 50% to me and 50% to the landowner as normal. As I found the spoon on a detecting buddies permission I am giving him 50% of my share. Hence I come away with £15.
Just about covers my expenses for the running around I did to deliver the spoon.
Anyway, not a great treasure find like the ones that have appeared in the press recently, but on a personal level I feel proud I have a piece of history that will be sat in a museum for all to see.
Tuesday 24 February 2015.