Today's finds: Whistle, 8x1d, 2xhalfpennies, 6xdecimal, little red bell, scouts badge, doggy tag with the name PETE, sixpence dated 1945, squashed thimble and 2 buttons.
I was itching to get out hunting today with my Deus because for the last couple of days I've been putting a program together. The results I had in my back garden testing looked promising, so I wanted to give these new settings a proper run.
So this morning I set off to my usual haunt where nothing old ever comes out and I've hit this site so many times in the past I thought it would be a good test site, just to see if I could winkle anymore out.
Well I was chuffed to bits with the result. I dug a good mixture of finds, from the small sixpence to the large copper pennies. The signals were sharp and very easy to spot the ferrous and the non-ferrous targets. In fact I didn't dig any iron, the only trash I dug were broken bullet cartridges, bottle tops, foil and bits of tin can.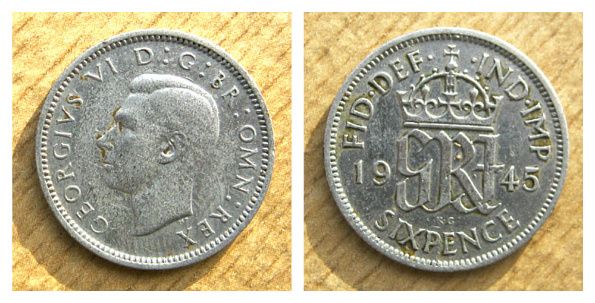 The George VI sixpence dated 1945. Though only 50% silver content I was still happy with it.
Also on today's hunt I did something I've never done before. When I had set the Deus program up, I put the control panel away out of sight inside my jacket pocket. I hunted with just the audio sounds and left the low iron signals and dug everything else. I never looked at the numbers at all.
Okay, it was a bit of a noisy hunt as I worked with full sensitivity and no discrimination, but it was great to listen to what was beneath my feet and home in on the good signals.
Yes, I enjoyed today's hunt. Looking forward now to a club dig on an old farm somewhere to really test it out some more. I feel more confident now and feel like I'm starting to really understand this Deus machine and use it to its best performance.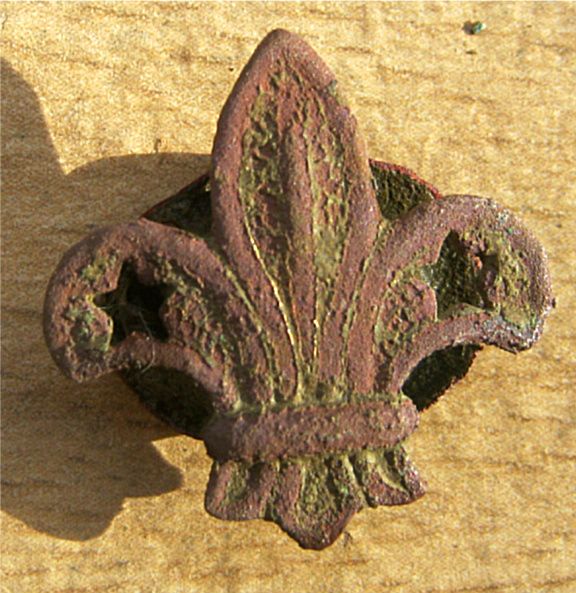 A small scout's badge which I thought was a nice find.
Thursday 26 February 2015.