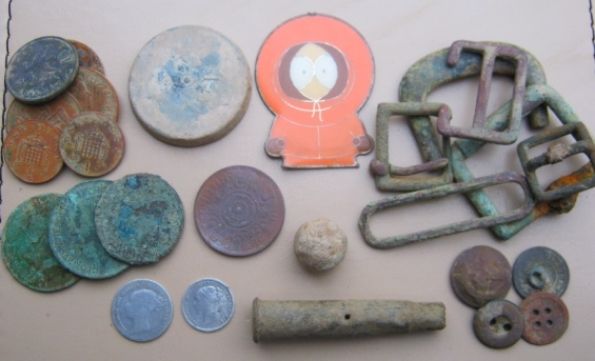 My first finds of 2015: 6 modern decimal coins, large lead disc, enamel badge of Kenny from South Park, 6 buckles, 3 grot coins, an Elizabeth II two shillings dated 1956, musket ball, shell, 4 buttons and the two Vikky silvers.
After two weeks of working my own shift, and covering other peoples shifts over the Christmas and New Year period so that they could go out enjoying themselves, I sat with my pint mug of tea yesterday morning contemplating over the whole thing. Christmas came and went and is now just a blur. Okay, I did have Christmas day off but spent most of that in bed trying to catch up on sleep. Now thinking back was it worth it, well, I console myself thinking while I was working I was earning and not spending and have a nice paypacket to look forward to.
Anyway, yesterday morning I'm sat with my mug of tea and the phone rings. It was my Nephew asking if I'm out detecting today. This was my first full day off in ages and I had so much to catch up on I had no plans to go detecting. I asked him where he was thinking of going as we are both short of permissions. He suggested a local pony sanctuary we had been to a few times. This site is only a small field and we have found some coins dating back to Queen Victoria and quite a few military badges and buttons, but our last couple of trips there produced very little. My first thought was negative but hey, it was somewhere to go and a good chance to experiment with different settings on the Deus. So I decided to go with the thought of if we find anything interesting it will be a bonus.
After a couple of hours detecting I remember thinking 'yup'. I knew it, nothing left here to be found and was slowly getting despondent. Mind you, my finds pouch was starting to fill with scrap we had missed before so who knows, maybe something decent will turn up.
After finding a few modern decimal coins, a couple of grot pennies, couple of buckles and some other bits I really started to get into it. Another example of me thinking a site is worked out and yet finds are made of stuff that had been missed.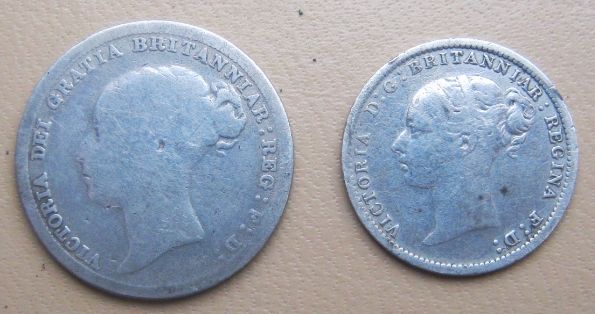 My hope of finding something decent happened within a couple of yards of each other. A scratchy signal came through my headphones, one of those not so sure signals, but as the numbers on my screen showed the low 70s I decided to dig it. To my surprise there laying in the hole was a Victorian silver threepence dated 1885, in nice condition. I was well happy with that.
Continuing sweeping along in a straight line I had another signal, this one in the mid 70s, and low and behold up pops a Victorian silver sixpence dated 1881, a bit worn, but another silver all the same.
So, I kick off the new year with two Victorian silver coins and a reminder that you never know when a site is worked out.