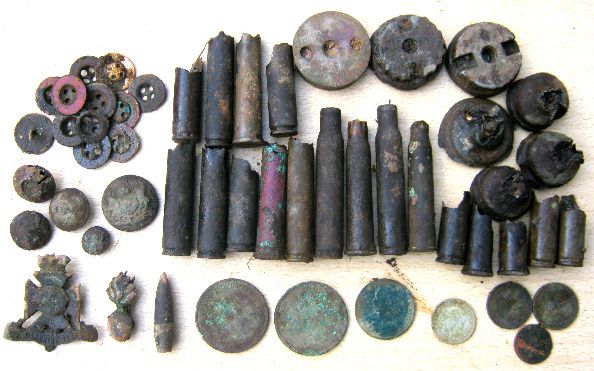 My finds today. Mainly all military finds. A couple of grot pennies, a Victorian halfpenny and a 1933 half-silver sixpence.
Sat at home this morning I was imming and amming whether to go detecting or not. It was cold out with heavy showers forecast and I was nice and snug at home with my mug o tea. Then I thought to myself what are you, a man or a mouse. So decided as soon as I'd finished nibbling this bit of cheese, I was going to brave it.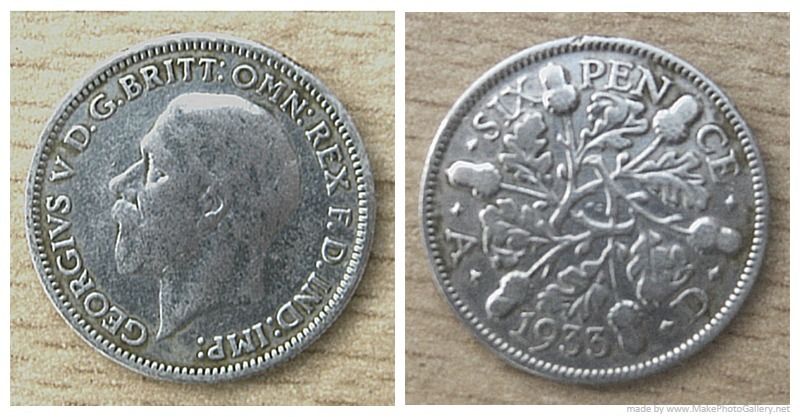 This 50% silver sixpence saved my day, dated 1933.
Which I did, and boy it was cold. When those showers of rain, sleet and hail came the wind picked right up making the chill factor even worse. Okay, I only braved it for three hours but thought I'd done pretty good considering the site I went to I had done to death in the past. Its a small wooded site and I found I could penetrate the brambles better this time of year as they had died back, thus giving me more areas to detect.
Quite a good condition Victorian halfpenny dated 1873.
It wasn't long until I was finding buttons, a good sign. I was finding a few cartridges too, military training activity is well known in this area and I did managed a few military buttons and a couple of badges. Coins were few and far between so I was happy to find the Sixpence.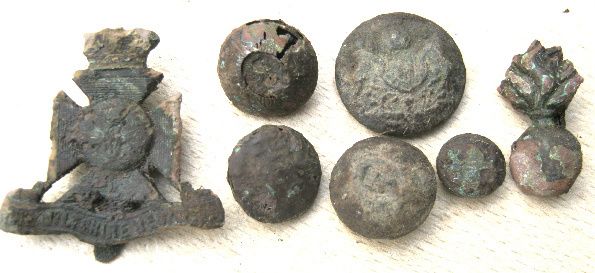 Military buttons and badges. All with designs on but hard to make out. I'm sure I have made an ID on the first one on the left above as 'The Wiltshire Regiment'.
With the last few hunts I seem to have settled on a set of settings which I'm happy with. Its a noisy set up, but I seem to be getting the depth I like. Plus with all the noise its good to hear whats going on in the ground.
Thursday 29 January 2015.