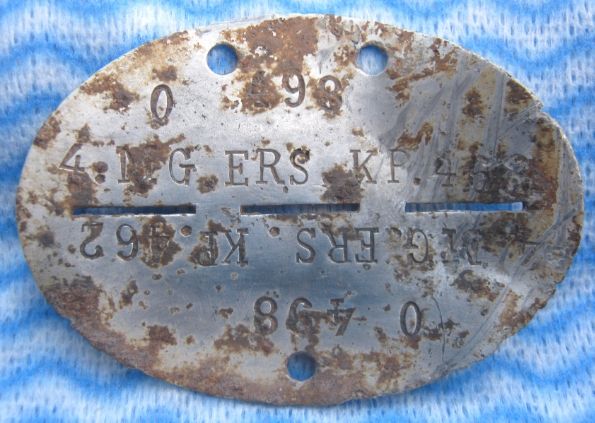 World War Two German Dogtag.
Another good reason to hold onto your trash finds until you are 100% sure it is trash. Above is a picture of a metal disc I dug at our clubs Christmas charity dig last Sunday on an old USA military site at Ivybridge. When I dug it I just thought it was a name plate off a bit of machinery and never took much notice of it and into my trash bag it went. Yesterday while reading a post on the MDF Metal Detecting Forum from a fellow detectorist at the dig, he had photos of all the different finds found at the site. One of the photos was of half a disc like the one above and it was identified as a German Dogtag. I realized that I had dug similar and retrieved it from my trash finds. With a gentle clean the markings were readable and it was identified as a dogtag.
The clever chaps on the MDF gave me some interesting information about the tag. They were able to tell me that it belonged to a German from the 4th Kompanie, MG, Ersatz Battalion 462, part of Infanterie Ersatz Battalion 462.
The owner of this tag was in the heavy weapons company, so an MG42 gunner in all likelihood. The 'O' is the blood group, and the number on its own, 498, merely shows that this soldier was the 498th to be entered into the roster.
All German dogtags had the same info on each half with a snap line down the middle.The 'living half' and the 'dead half'. If you were killed in battle, your comrades would snap your tag in half and take the 'dead' half back to report your death. The top 'living half' always had two holes, the bottom 'dead' half had one,
All interesting stuff and another little bit of history saved. For it appears that this site also had German POWs in the area.