My bad luck continues. All week I have been planning and looking forward to this weekend. It was a three day rally down here in Devon, Friday, Saturday and Sunday. The weekend started for me on Friday when I arrived at the rally and set up my tent, digging started at noon. We had a couple of fields to detect on for Friday afternoon til dusk, with more fields being opening up as the weekend progressed. Friday produced for me £6.20 in spends and at the end of the day I could feel something wasn't right with my 'falling to bits' body. Ached all over but a trip up to the village pub with a few of the lads in the evening eased it a bit and I slept like a log.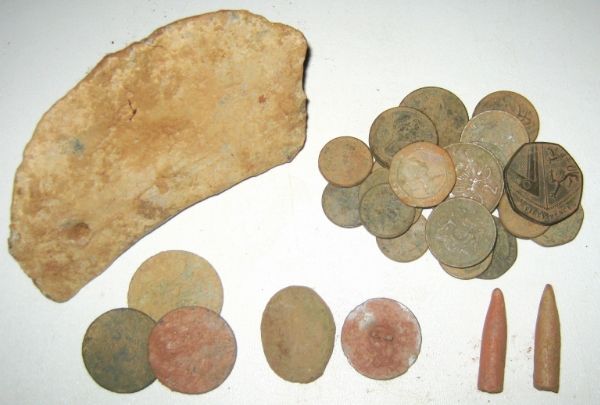 Saturday started well, I was out in the firlds detecting but as the morning went on I started aching from my hair down to my toenails.and come midday it was my back that finally made me throw in the towel and call it a day, just threw my tent in the back of the car and headed home.
Up till then some good stuff was coming up and the rally was looking very promising with more great finds to come. It will be interesting to hear on Monday how the rally went.
My finds for the time I was there consisted of a lead palm guard, £6.20 in spends, three grot coins, a small horse boss, button and a couple of bullets.
Saturday 27 September 2014.