Sunday 24 August 2014.
We had a club dig today on a lovely permission just on the outskirts of town. The weather held off and we were able to detect in comfort. One of the best comforts was we were able to park right on the fields, and what great fields they were too. Short stubble and pasture.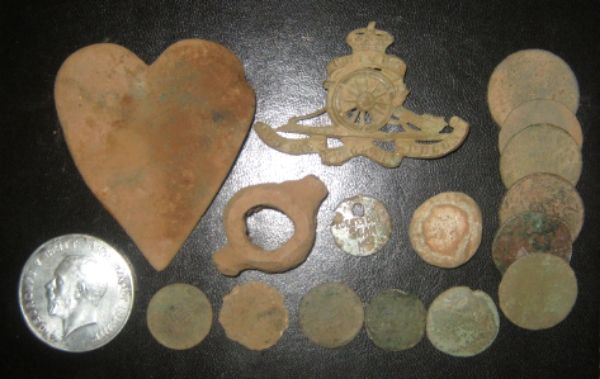 Above were my finds for the day. Used my Garret Ace 250 as my Deus headphones are in for repair and quite enjoyed using the old girl again. I was mostly finding grot coins and just some bits and pieces for a good part of the day. I saw and heard of the hammies coming and really wanted to find one. Every good signal I was thinking please let it be a hammy, but alas, wasn't to be.
It was about mid afternoon and I decided to walk from the pasture field we were in back up to the stubble field where the car was, I was feeling a bit peckish. On the way back to my car I was swinging away but not really concentrating, I was looking at the splendid views around me and trying to hurry for a snack. All of a sudden a lovely DING DING brought me back to the task in hand and I dug the signal.
WOW!, you could have knocked me down with a feather, there laying on the heap of soil I just dug out was this whopping great silver disc. First thought was a half crown, on picking it up I thought maybe a crown, after a little cleaning I could see what it was, a lovely silver war medal. I was made up, a decent find at last.
Above is a pic of the medal, lovely condition but still needs a better clean up. I felt quite gutted that some old boy lost this medal. Around the edge of the medal is his service number, his rank, his name and his regiment. Plenty to go on for tracing his family and hopefully return this medal to them. I will keep you informed and hope one day to say its returned to its proper home.