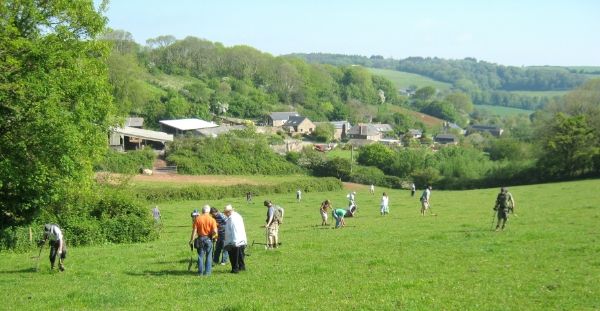 A pic of the South Hams Metal Detecting Club members in the first field.
Today I was out on a dig with the
South Hams Metal Detecting Club

.
We detected a farm surrounding a small village on the South Devon coast. The farm is under the Higher Stewardship Scheme and they have a learning center there for children. We had permission to dig but any finds had to be handed over to the center so they could show the children and the village locals what sort of things are beneath their feet. History at its best for the young and old.. It was a very good turnout from the club, the weather was gorgeous, and the finds came thick and fast from buttons and buckles to hammered coins and other interesting objects.
The FLO was there to record all the finds and it turned out to be a very enjoyable and successful day.
The FLO recording my finds.
The FLO, bless her, was there for most of the day recording and was still there as I left. It was very interesting watching how she went about recording my finds, every object was treated like it was a silver hammered coin, very professional.
I will update this post when I know what the hammered coins were and of any other news and pics of this event as it comes in.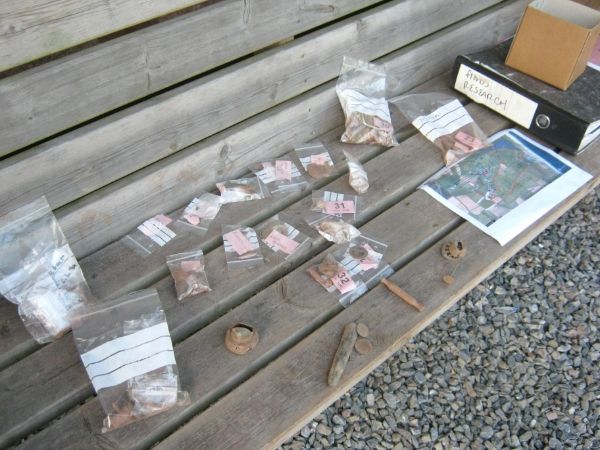 More of the finds all recorded and bagged up.
A very good bit of PR here showing metal detectorists in a good light and I'd just like to say a big thank you to all those who were involved in the organizing of this event. Plus a pat on the back for all those members who attended and supported the event. A first class day and I for one really enjoyed myself and would do again.