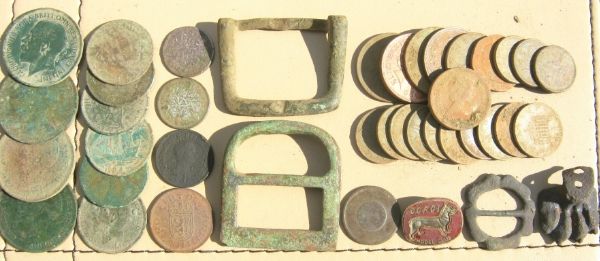 I went out this morning and had a good six hours detecting. No gold or silver but a few finds came up making it an enjoyable session. My idea was to detect low and slow and after setting my Deus up in the 'Deus Fast' program I set the ground balance to 'Tracking' and then done a bit of tweaking....see, I'm getting confident with the Deus now :) I put 'Reactivity' up to 4 and 'Discrimination' up to 30. The area I was detecting was heavy with trash so had to go slow to pick out the good signals. It payed off as I was soon pulling out a few good targets.
The pic above shows my total finds for today: 4xPennies, 6xHalfpennies, 1xShilling, 2xSixpences, Georgian Grot, 3xBuckles, plain disc, Corgi Model Club badge, a metal foot and £1.63 in spends.
The spends will go towards my metal detecting challenge.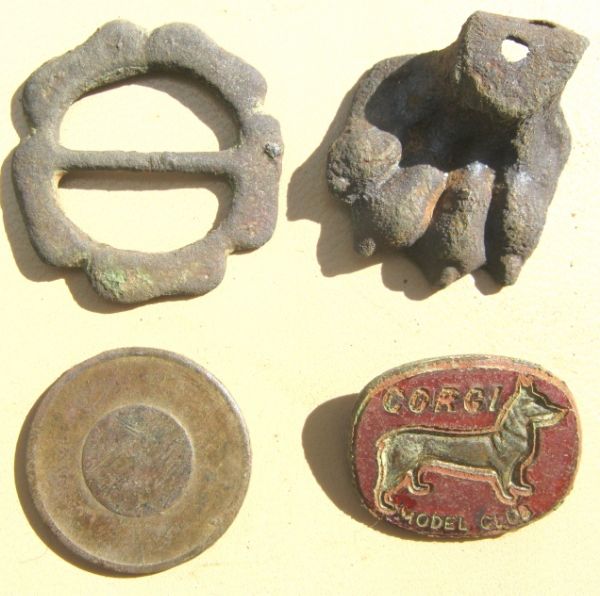 The pic on the right here shows some interesting finds. There's a small buckle that to me looks old, medieval I'd say going by my book, very pleased with that one as its about time something old came up on this site. Next to it is a foot/claw. You can see four toes and toenails. Not sure of the metal but its not lead and has two holes on the top as if it used to be attached to something. Under that is a cool find, a Corgi Model Club Badge, looks around the 1960s. Beside that is just a plain disc which at first I thought was a coin. Maybe a fruit machine token of some sort.
To the left is a pic of the pre-decimal coins I dug. The date range of them are from 1862 to 1958. The oldest being a Victorian Halfpenny 1862. The one shilling is dated 1958 and the two sixpences dated 1933 and 1956. There is also a grot coin there, an old Georgian but too far gone to make a date off it.
That old saying in the metal detecting world 'slow and low' is a good way to go as my nephew and I have been all over this area many a time like headless chickens. Mind you, its only the second time I've used the deus there, maybe that has something to do with it.