I have the willpower of a lemming.. Only a few hours ago I decided to give my detecting arm a rest, but on waking up this morning my arm didn't feel so bad, also the sun was shinning, the birds were singing and there was a club dig on. It was no good, I just had to go so quickly got my gear together, a flask, a bite to eat and I was off to the meeting place. Just made it with 5 minutes to spare.
We set off in a convoy and when we all arrived at a farm in Totnes, we found out we had 4 stubble fields we could detect on. Some tasty stuff had come off this site before so I was full of hope. I was using my Ace 250 fitted with the 13" Ultimate coil, this set up has served me well in the past.

We were soon all set up and off into the fields. That's us walking from the cars off into the hills beyond. It wasn't long before a first hammered turned up, and before noon I had heard of 5 being found, also part of a bronze axe head, and some other tasty goodies. Me,,,,, all I had found was about 3 plain buttons, but hey, there was still the afternoon to go yet. I'm sure I was doing everything right, slow and low,,, keep the coil to the soil as they say, listening for the faintest of signals. Mid afternoon I did hit a lovely signal, that's a coin I thought, and sure enough, it was,,,ok, it was a grotty Georgian, but it was a coin, I was off the starting blocks.
Okay, that turned out to be the only coin I found all day, but shortly after that coin I dug a lovely buckle I was pleased with. Also a musket ball turned up, a couple of unreconisable lead bits and a couple more plain buttons. At about 3pm, I looked up and there was no sign of anyone. I guessed some had called it a day, and some must be in another field. At 4pm I made my way back to my car and on arrival I saw that I was the last man standing. So I'm not sure of what the total finds of the day were until I see reports, so will update this post later.
Thinking back I suppose I should have used the standard coil on the Ace 250 as it would have been easier getting in between the rows of stubble but at the time I was thinking of depth, the 13" Ultimate coil does give that extra 2-3 inches more depth but that was lost riding on top of most of the stiffer stubble. One thing that I had forgotten about the Ace 250 was the simplicity of it. Just turned it on, stuck it on all metal mode and away I went. Running it on full sensitivity did give me a few false signals when hitting the stubble or the ground but when you did go over a decent find that bell tone soon told you to dig.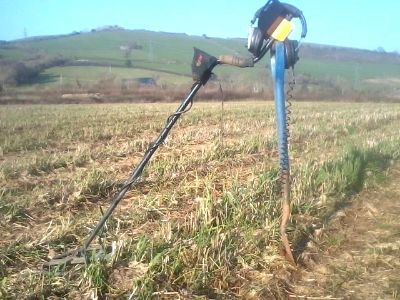 All in all a very enjoyable club dig, it felt like a spring day, just look at that blue sky in the photo, it was just great to get out into the countryside again.
My arm, well, it does hurt a bit, but boy,,, it was worth it.