Out with my Nephew again today on his permission. He had a couple of errands to run first thing this morning so I made my own way to the site and had been metal detecting a good couple of hours before he arrived. He found me in one of the top fields and asked how I had done. Nothing but junk I replied. He set up his detector, a Deus, and right away had a signal that turned out to be junk, then, only a matter of minutes later had another signal. He says to me run your machine over this signal and see what you think. I did and told him its not really a 'dig me' signal as it was breaking up. Well, he dug it and out pops a small piece of golden coloured foil. Never mind I says and starts walking off detecting. Couple of minutes later he calls me back. He had re-scanned the hole and there was another signal which turned out to be this amazing Queen Mary Groat. I couldn't believe it. Just goes to show how re-scanning your holes can pay off.
It came out in that condition, a stunning coin, well found Dave.
What did I find.....well, I am having a very poor run at the mo. All I found of any interest was a couple of buckles, another horse boss, couple of grotty farthings and a couple of grot pennies., oh, and what I'm sure is a watch winder.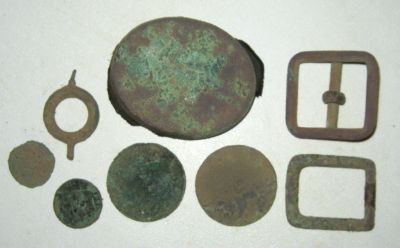 But seeing that silver hammered coin above made my day. Sort of gives you hope that there's still good stuff there still to be found.....My turn next time.