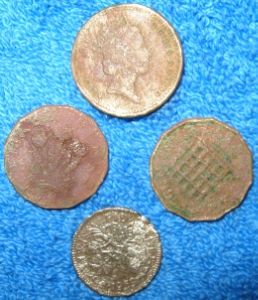 After work this afternoon I had a run with my Garret Ace 250 for a change. Seems ages since I used it and I have missed my little 'ol faithful. The weather forecast was bad and as it was only misty drizzle when I left work I thought I can handle that and drove to my normal spot close to where I was working. After about an hour the rain became quite steady and I thought well, I'm out, so may as well carry on. Then it chucked it down and I thought na, can't handle this and made my way back to the car and home. So had about an hour and a half with my trusty Ace and did managed to winkle out 4 coins.
A pound coin,
Two thrupenny bits, 1942 and 1953,
An Elizabeth II sixpence 1959.
That was enough to keep me interested and looking forward to another outing soon as I can.