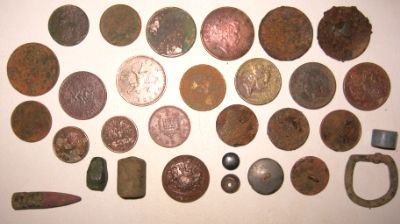 Was up at the crack of dawn this morning and got in a full 8 hours detecting. First I headed for a local beach as I wanted to give the Velox a first run on a sandy beach. I played about there till high tide and then headed inland to my wooded area. Yes, the same old haunts but its all I have at the moment. The tally of decent finds are in the pic here.
The first thing I did on the beach was to head for the waters edge on the low tide and see how the Velox reacts to the salt water. I played about with different settings and opted for the mineral on 3, ground balance on 6, sensitivity on 6, discrimination on 6, and iron off. With these settings I found the Velox ran pretty quiet, just the odd false signal as the coil hit the sand and a bit of chirping. Up and down the beach I went and must admit it was a pleasant experience. After a couple of hours I started to get a bit dispondant as I wasn't finding anything, not even a pull tab, bottle top or rusty nail. I had a feeling I wasn't getting the depth and realised why I just got myself a C.Scope cs4pi. I'm convinced now if you want to do proper beach detecting then its got to be a PI machine. Still, all was not lost as I had plenty of time to detect up on the dry which is where I headed.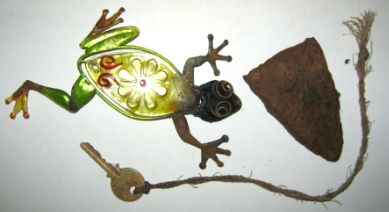 Up on the dry the Velox performed as good as on land, no probs at all and I was soon finding decimal coins. I liked the frog there and thought even tho someone had tied string onto a key they still managed to lose it. That triangle iron object is just that, an iron. They used to heat them on a stove and when they had cooled they would swop it for another hot one.
Come high tide the top of the beach started to get visitors, dog walkers, day trippers, etc, so I thought its time to move inland. At one time on the beach I had a family of three children following me around. In the end they were sharing my pro-pointer and I'd dig the target out and they would try and find it with the pointer. I laughed, they were even keen on finding bottle tops and I thought wait until you take up this hobby proper, you won't be so keen on finding them then.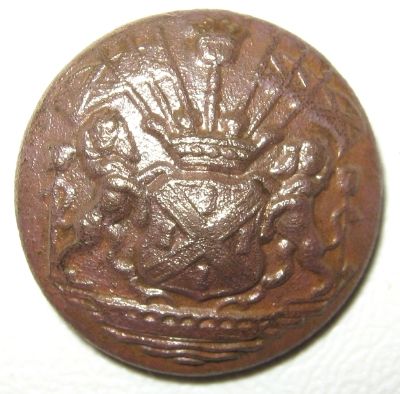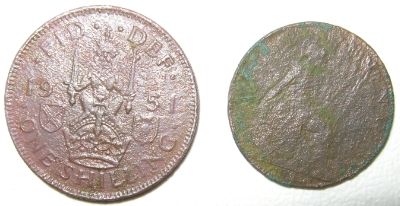 So mid-day I made my way back to the car and headed for my woodland area. Again I managed to winkle out some decimal coins but also dug a local button which I like. Its that button in the photo, you can see the Plymouth coat of arms on it. Will clean that one up later. Did find a couple of pre-decimal, a one shilling and what I think is a Victorian farthing.
Nothing brill in the finds department, but as long as I'm finding something I'm happy.
Just waiting to see my work schedule for next week now and see where I can fit some detecting in.