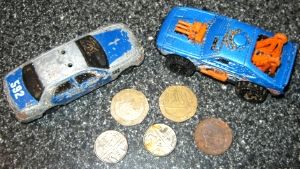 Spent the day with my missus today doing bits and pieces. Around lunchtime I said how do you fancy some fresh air as I want to see how my sc4pi performs on the wet sand. She shocked me and said ok, but I had to promise only for an hour. So we set off to a local sandy beach 20 mins drive away. She parked herself on a rock and I went hunting just around the area with the sc4pi, just really wanting to see how it performs for a later days long hunt.
Well, I was really impressed. I set both dials roughly midway in the green zones and started swinging. It was a pleasure to detect on the wet sand in silence, just the odd false signal where I hit the sand. About 10 minutes into it I had a sure signal, dug it and it was a 5p piece. Few minutes later another signal and it was a 1p piece...I thought wow, two signals, two digs and two coins. Next signal was a lot deeper then those other two and out pops a small rusty nail thing. I thought, here we go, the deep rubbish I've heard about. Then followed a session of just bottle tops and other trash, but I was soon back in the money with another 5p.
That car on the right had to be well over a foot down, I would say a foot and a half easy as was some of the larger trash I dug. Anyway, soon the hour was up but in that small area I was hunting I found a total of 51p and two toy cars lol... I enjoyed it and it has put me in good stead for a days beach hunting as soon as possible.
In a nutshell I was happy with how the sc4pi performed, it is as they say deep seeking. Every signal I had was something, if not a coin it was a bit of trash. Not one false signal but for when I hit a stone or the sand.
I am well pleased with my new purchase.