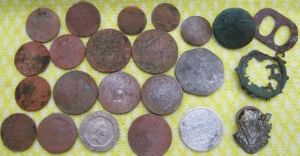 At last I was able to go out detecting today. It was a bit damp with misty rain but that wasn't going to stop me after missing out on so much detecting because of work. All I did was pop a large see-through plastic bag over the whole of the control box on the Velox.
Went to my usual haunt with the large coil fitted and boy do it cover some ground. I did find with the large coil that it likes to be moved slowly and I have got the pinpointing off to an art now, every dig was spot on.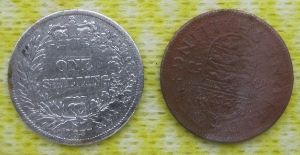 The way I pinpointed was as follows:-
Once I picked up a decent signal I moved the coil off it, then slowly approached it again watching when the nose of the coil hits it. Follow through with the coil over the target until it leaves the tail of the coil, then just reverse back over the target half a coil's length. You can sort of 'see' the target with the minds eye and stop right over it.
The photo above are my total finds worth showing. Mainly all decimal but I was very pleased with the silver Victoria One Shilling dated 1857. It came out around 5" deep and also dug an Elizabeth II one shilling. Look at the difference in the silver content. As I say the rest were all decimal coins. That shiny 20p piece was just laying on top.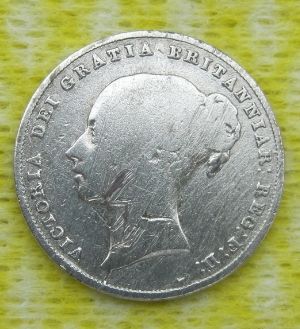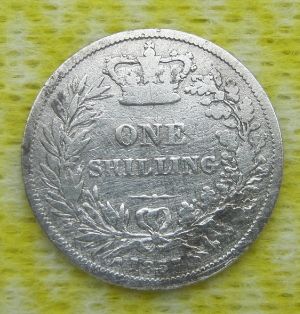 The Obverse and Reverse of the Victorian Silver One Shilling I dug. A little worn with a few scratches but always nice to find a silver.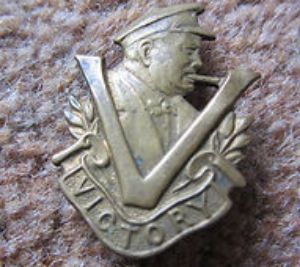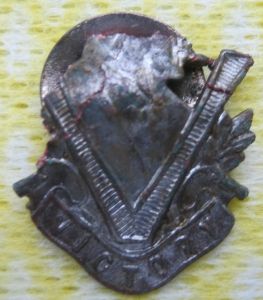 This silver coated badge would have been a better find if it wasn't damaged. You can see the large letter V and underneath it says VICTORY. Its a WWII Winston Churchill V for Victory badge. I put up a pic of a similar one that I found on Google of what it looked like.
Anyway, really enjoyed my hunt today and hope to get out again very soon as I'm looking forward to trying my newly obtained C. Scope CS4PI on the beach.