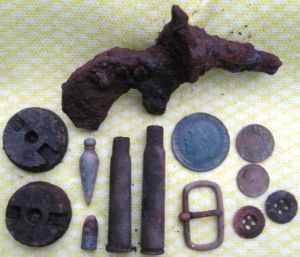 Well, it seems like the only way I can get any detecting in these days is to snatch a couple of hours here and there between jobs. I don't like detecting this way, much prefer a full days detecting but it is as it is at the moment.
I went over the same old site again today as it is nearest to where I live. Not very successful again in the finds department. All I found of any interest if you can call it that is a couple of buttons, couple of shell cartridges, a bullet, an old penny, a decimal penny and a halfpenny, even that buckle looks modern, a plumb bob, and a chunk of rusty metal which to me looks like a small handgun or I maybe wishful thinking.
Anyway, not much but as always its great to get out detecting, even if it is only for a couple of hours. I suppose every hour is learning time to get to know my machine and large coil ready for a proper metal detecting hunt.