My total finds today: Fifty decimal coins amounting to £12.99 - Two large fishing weights - Two small lead balls - British flag badge - dog tag - silver locket and a gold bracelet.
I had a text from a lad this morning inviting me to a permission of his. As I sort of got him into detecting and he bought himself an Ace 250 on my recommendation, he wanted me to come along and show him some pointers with the machine. Now I'm not one to refuse an offer of a dig so made my way to his place. His site was just one field which held a car boot sale a few years ago. He told me he has used his Ace 250 twice on this site and did find some decimal coins and some odds and ends, but nothing old. Within a couple of hours detecting he was well away with his machine. I was using my Deus and right from the off we were finding decimal coins. In the end it became a competitive coin hunt to see who could find the most.
He was right, there didn't seem to be anything old coming up. Loads of bottle tops and ring pulls, but loads of coins too. Was good fun really and I was enjoying it.
My first decent find was a silver locket shown in the pics. That find made my day and I was happy with just that and all the decimal coins. But just as we were making our last sweep back to the gate up pops a gold bracelet.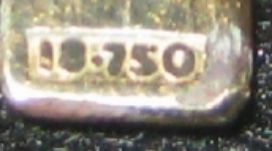 I looked all over the bracelet for some ID and the only mark I can seem to find is on the tiny clasp. I'm sure it says 18.750. Which I have been told will make it 18 karat.


So all in all an excellent day that I didn't expect. It was well worth the mudbath and couple of soakings due to the heavy showers.
***UPDATE***...

(15th January)
After having the gold bracelet looked at by two different dealers it turns out the bracelet is a fake. On closer examination you can see the gold peeling off showing a base metal underneath.