Thursday 28 August 2014.
Managed to squeeze in a couple of hours detecting this morning out on a local pasture site. As my Deus headphones had not arrived back from repair yet I ventured out with my trusty Ace 250 with the 13" Ultimate coil fitted.
The two coins pictured are really all I found apart from the usual trash and bullet cartridges. A grotty copper coin and a young head Victorian Sixpence dated 1883 which was nice. As you see the sixpence has had a hole pierced through it, maybe to be worn as a pendant.
I had a giggle to myself over finding that sixpence. First it gave a lovely signal. My first spadeful took off about 4-5 inches of turf and soil, but my pinpointer singing away showed it was still in the bottom of the hole. I suppose I dug out another 3-4 inches of soil and put my pinpointer back in the hole, nothing in the hole so must be in the spoil heap. I ran my pinpointer over the spoil but not a sound. So now I picked up my Ace and ran the coil over the spoil and the hole to try and find the target, still nothing, not a peep. I then spread the spoil about a bit but still no sign of the target. I wiggled my spade around the inside of the hole and passed the coil over everything again, still no target. I even checked the pointed end of my spade but no sign or sound of the target was to be found.
After filling the hole back in and passing the coil over one last time without a beep I thought to myself that was the best false signal I ever had. I just happened to look at my spade again and caught a glimpse of a small round disc near the neck of the spade. AHAAAA....that's where it is. The target was stuck to my shovel. Took my phone out my pocket and snapped the photo. I picked it off and rubbed it with my finger and thumb but it was caked in a layer of crud.
At first I thought its a modern 1p, then looking closer I could see a little bit of silver colour and a coup[le of letters and then thought a small dog tag because I then saw the hole through it and just popped it in my pouch. On the way home I was thinking DOH!!, all that just for a grotty copper coin. At home I set about cleaning the 'dog tag' for the photo when I saw it was a Victorian sixpence. So not such a bad couple of hours after all.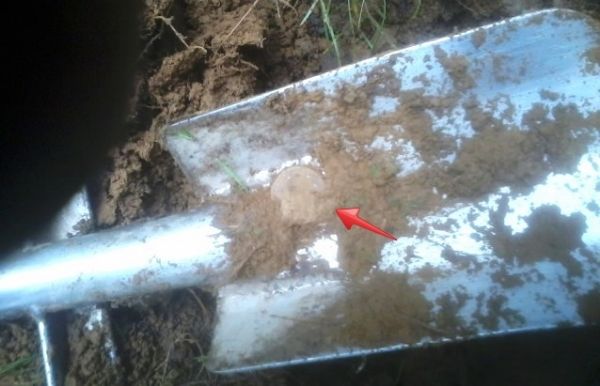 ...oh!!, when I returned home I found my headphones had arrived. They work fine again so thank you Crawfords Metal Detecting for a great speedy service.