Total finds from yesterday.
Went to work as usual Wednesday night and left at 11pm, went home, had a shower and something to eat, messed about on the computer for a while and left home for my metal detecting trip to Slapton Sands at 2am yesterday morning. The idea of the early start was to miss the crowds in this fine weather. I had to wear my head torch as soon as I got out my car as it was pitch black as there was no street lighting on the walk down onto to the beach.
Once on the beach I had a problem with moths, loads of the blighters flying around my head torch, clipping my eyes, nose and face with their wings. This night detecting is sure an experience but in a way quite pleasant, but being the wuss I am I have to admit I did find it a bit eerie on my own and was more relaxed when it started to get lighter.
Anyways, so what did I find with my new XP Deus settings I went there to test.... not a lot really, but the settings performed well up on the dry sand/shingle. The problem I had is that I didn't walk over much to find or it was too deep. Found a total of £4.87 in decimal money and thee old 1930/40s sixpences. Also three weights and a swivel. Not much I know for 6 hours detecting but as the old saying goes, you have to walk over it to find it.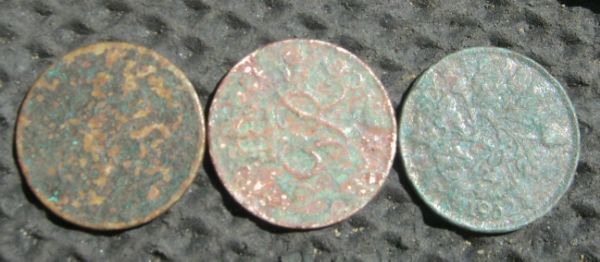 Three sixpenny bits from the 1930-40s.
I had two new settings I wanted to try and after awhile I settled on the setting below which seemed to perform better, not noisy, didn't dig much trash and seemed to have a good depth. The other setting I think would be more suited for a quiet pasture site.
The setting I used yesterday were:
DISCRIMINATION 8.0
..3 Tones
....Tone 1, 191
....Tone 2, 197
....Tone 3, 791
SENSITIVITY 99
...TH Power 3
FREQUENCY 17.7
IRON VOLUME 3
REACTIVITY 3
...Silencer -1
AUDIO RESPONSE 5
NOTCH 00-00
Keep in mind I'm no expert and this is only what I copied, in fact I don't understand some of it, but it seems to perform well and at the moment I enjoy using the settings above. I'm always on the lookout for good tips on setting up the Deus if you have any.