Tuesday 29 July 2014.
Just a heads up on my Nokta Velox One large search coil I am selling on the MDF auction site.
START BID £30.00
START TIME MONDAY 28th JULY 2014
END TIME THURSDAY 7th AUGUST 2014
If interested and to view this auction listing please click this link:
For auction sale, a Nokta Velox One Large Search Coil 39x45cm (15.5"x17.7").
Coil cover included.
I had a Nokta Velox One metal detector with the standard coil for 18 months, and part-exchanged it. Six months before I part-exchanged the Velox I got the large 39x45cm search coil for it brand new. During those six months I had the coil I only used it about 4-5 times.
The large coil has just been laying around at home here since I part-exchanged the Velox four months ago. So from new the coil is only 10 months old and as I say, only been used 4-5 times and its about time I sold it as its no good to me now.
I got the large coil from Evergreen Outdoors Metal Detectors which I believe has now gone out of business, so there is no warranty in force.
As the coil is of no use to me I'm starting the bidding at £30. 00 with no reserve, that includes postage and packing and sent Royal Mail Signed For. If it sells for £30.00, that's all you pay.
Any questions please contact me through the auction site.
Please Note: Payment is by PayPal only and will only post within the UK. Also I'd like to let this auction run its course, so no offers please.
Good luck if you decide to bid.
janner53.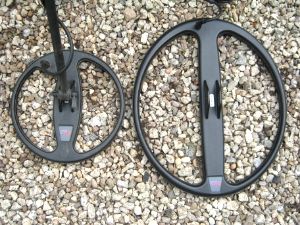 An old pic I took showing the difference in sizes between the standard coil on the left and the 15"x17" on the right.
ALSO INCLUDED....
The leather battery pack holder which attaches the battery pack to the side of the Velox One's control box. Its well used and in good condition. I will be sending this holder free with the coil.