Thursday 19 June 2014.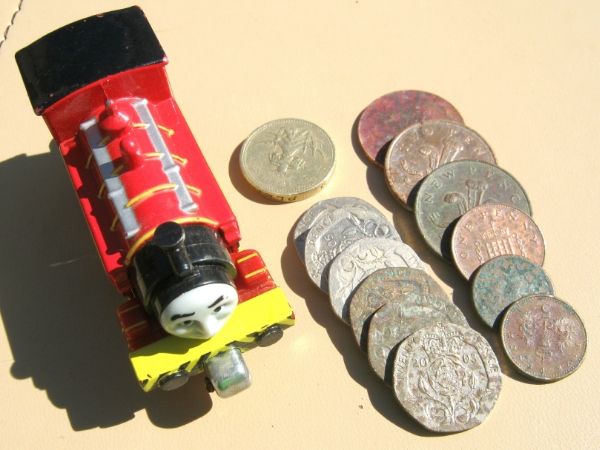 Tried my luck on the beach again this morning and managed a total of £2.37 and a Thomas the Tank toy engine. Thomas is def a recent loss, he looks brand new. For the first couple of hours I was detecting the wet sand but nothing at all was coming out so moved up onto the dry and that's where I found the above. After five hours that was enough for me, it was sweltering and a lot of beach-goers were turning up. I would have had a dip in the sea to cool off but as the beach is steep you only have to walk out a few yards and your out your depth. I don't like deep water and to be honest I scream just as loud if I was being attacked by a great white shark or if a piece of seaweed touches my foot.
Oh well, another £2.37 for my metal detecting challenge so any finds are welcome.
***UPDATE***
The engine has been pointed out to me that's its not Thomas but James. Thank you Jordan :)
***ANOTHER UPDATE***
Jordan got back to me in the comments section saying he now thinks its Victor and not James so I did a bit of googling myself. After about 20 minutes I still wasn't sure as there are a couple of different red engines so I thought I would have a look underneath the engine to see who the manufacturer was and hopefully pinpoint it that way. I turned it over and guess what I saw, in big white capital letters was the name 'VICTOR'.
Sorry about that Jordan, its me that should say sorry to you for messing you around. But I appreciate your effort to ID it which you did get right.... You may slap me with a large wet fish :)