Sunday 1 June 2014.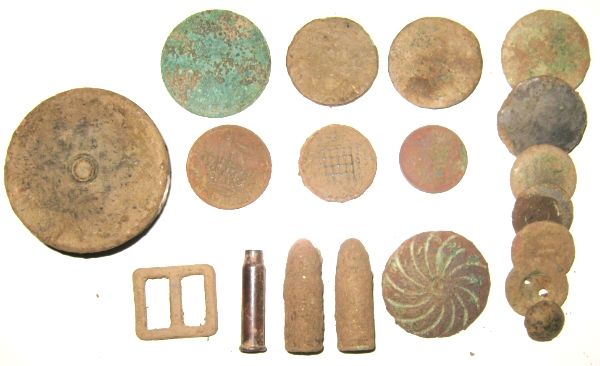 My finds today: Large shell bottom, 3x grot coins, a shilling, a threepence, a sixpence, few buttons, small buckle, a bullet casing and 2 bullets, and a circular harness mount.
My detecting buddy and I had a return metal detecting trip today to a farm in Cornwall. The last time we were there it was a bit disappointing, all that was found of any interest was a silver hammered coin that he made. Today we had the chance to have a crack at some new fields that had been ploughed and now left to pasture. On a couple of these fields the grass growth was a bit of a challenge but there was also a couple of fields that looked just perfect.
But alas, after a total of 7 hours the only decent find we had to show for it was a Victorian silver sixpence and the credit for that one went again to my detecting buddy.
The potential is there for some good finds I think if detected proper, but the site is a good hours drive away and costs us £10 each to detect it for a day, so once your there the urge is to find what you can in the given time. Isn't it weird how its always the next field that looks better than the one your in.