Sunday 11 May 2014.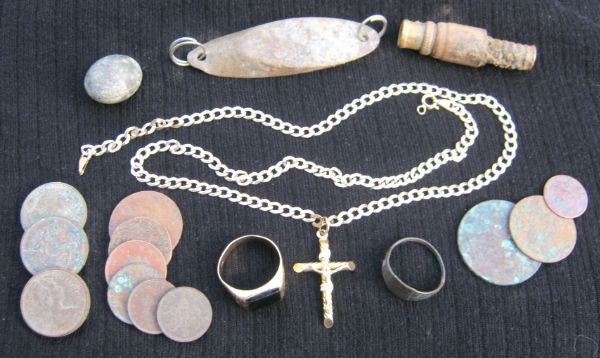 Last night I had a bit of a mishap with my Deus. I went to charge it up ready for a detecting trip today and as I plugged the connection clamp into the coil I snapped one of the pins so was unable to charge it up. I will see about ordering another one on Monday. All was not lost though, as I had my trusty back up machine the Ace 250. It was great to use the old girl again and had a great day with her.
As low tide was around noon I decided to leave home early and catch the tide going out, so headed off to a local beach. Arrived around 7am and was soon detecting away enjoying the peace and quiet when within 10 minutes my first dig was a 20p coin. great I thought, I was hoping for some spends to go towards my detecting challenge. Second dig was a 2p coin, great again I thought, but that was it for about the next hour and a half. I was just digging trash. Up and down the beach I was going and the finds were few and far between. After 5 hours all I had to show for my effort was 2x20p coins, 2x£1 coins, 1x2p and 2x1p coins....£2.44 and an aching back as I dug loads of trashy stuff.
I made my way to my car for a sit down and a cuppa and really felt like I had had enough. As I was just about to make up my mind to leave the sun came out again and I thought booger it, I'll give it another hour or two. This time I stayed up on the dry sand where I did find some more coins. My thought was as its been quite sunny weather since I was last here maybe there would be some fresh losses. All of the coins I found today had been buried for quite a while so no fresh finds there.
I must have been at it for around 7 hours now and was working along the very top of the beach when I had a glorious signal. Yes I thought, that's a pound coin if ever I heard one. First attempt it was in the scoop, shook it, when all the sand had filtered out there was a glorious sight laying in the bottom of my scoop,,,, a gold ring. Checked inside it and there was a mark saying 9 CT, ok, only 9 carat, but it was gold baby. That made my day and sort of inspired me to search a bit more.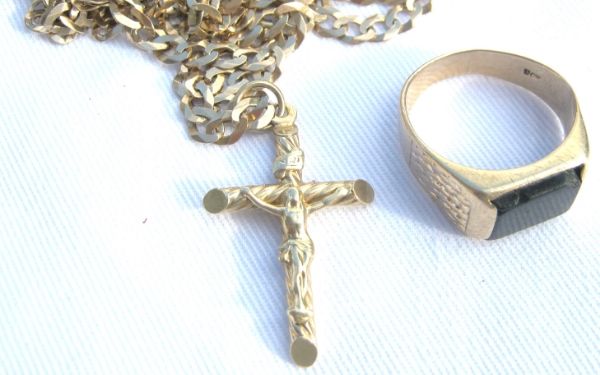 Wasn't very long after the ring and a couple more decimal coins when I had another belter of a signal. Again I thought pound coin,,,,,, when I dug the fist scoop out I noticed something hanging out over the edge of it just dangling down. Right away I saw it was gold colour and pulled it out of the scoop. I couldn't believe it, there hanging in my hand was a gold chain with a cross attached. I sat down and looked for markings and noticed the numbers 375, I wasn't sure if that was gold or not but as soon as I got home I checked it out on the net,,,, 375 = 9 carat gold.
So, all in all an excellent days detecting for a change. The very top picture shows my total finds which were : Gold ring, gold chain with cross, another ring but a junk one, £3.53 in spends to go towards my detecting challenge, a fishing weight and spinner, that top right object is a valve, (don't know why I kept that?), an old penny and halfpenny and one of those old decimal half pences.
Finally got home around 4pm, so after 9 hours of detecting at last I had something decent to show for it all.
I knew my Ace 250 wouldn't let me down.