Friday 9 May 2014
Popped out again this afternoon hoping to strike it lucky, again nothing brill turned up but as always its great to be out detecting. I was going to try that new program but the area i was in was pretty contaminated with lots of iron and canslaw, so stuck my Deus in 'Deus Fast' mode for the recovery speed, also tweaked it a little by putting 'Reactivity' on number 5. Not sure if that made a difference but I was very pleased with the recovery speed. The grass I was on was a bit too long for my liking, but I kept the coil low and managed a few finds.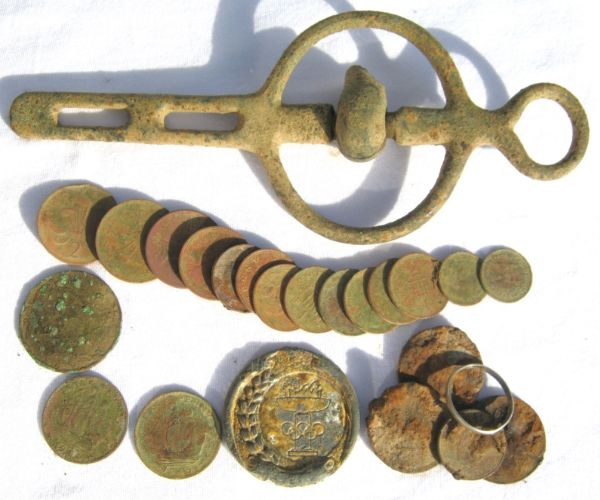 Don't ask me what that big object along the top is in the picture above, not even sure of what its made of, but came out at about 6" deep. Found £1.20 in spends. Also a grotty penny and two ship halfpennies. There's a bigger pic of the large round disc below of what seems to be an Olympic badge. At first I thought I found a silver ring, really has the feel of silver and looked silver, but done the spit and foil test and there was no eggy smell, so have to class it as a junk ring. That's it up there sat on some crusty coins.
This is the disc of what looks like an Olympic badge of some sorts. It shows the Olympic flame with the 5 rings and a laurel decoration. The back is plain and you can see where the lugs were making me think it was a badge.
Now what I did find really interesting today was something I had wanted to see since I was a kid. In the area I was born and brought up in Plymouth there is an old Convent that used to house nuns. The convent shows up on very old maps of Plymouth so been there a very long time. I believe the convent building that stands there now was built in the early 1900s, now surrounded by houses. Every parent in the area used to say to their children, mine included, that if we were naughty they would send us to the convent for the nuns to look after us, ...'ell, that used to scare me. I still shiver now every time I pass that convent. I wonder if the parents still say it today.
Anyway, when I was growing up in the area I heard a few times that in the woods behind the convent there was a tunnel that led to somewhere that nobody new. I heard it was built years ago so if the convent was attacked, the nuns had somewhere to escape. I have always wanted to check the story out and to see if it was true. In my adult life I had forgotten about it until today. As I wasn't detecting too far from where I live I left the car home and walked there today. On the way back home I took a short cut and noticed that most of the high old convent wall had been knocked down because of new housing and you could quite simply just walk into the wooded area behind the convent. By the look of it the locals now use it as a tipping ground which is bad news, full of rubbish.
When I saw this I right away remembered about this tunnel, so, in I went for a look around. It felt very strange being in this little area as it was a no go area when we were kids.
I followed the narrow paths that had been made by the kids of today and everything was well overgrown and neglected. Rubbish everywhere too. As I reached the bottom I noticed a long deep gulley, certainly looked man made. Very large trees were growing in the gulley so it had been there a long time. I followed the gulley and just as I came to the end of it there before me stood the tunnel. After all these years I now know the story was true. It was a fascinating sight, really looked old. Looking into the entrance through the dark it appeared to go in for about 12 foot and was blocked off. So gawd knows where it led to. If indeed it is a tunnel, could it be a kiln of some sort? I hope to find out more about this as its a piece of Plymouth's hidden history.
I took the pics below with my phone
.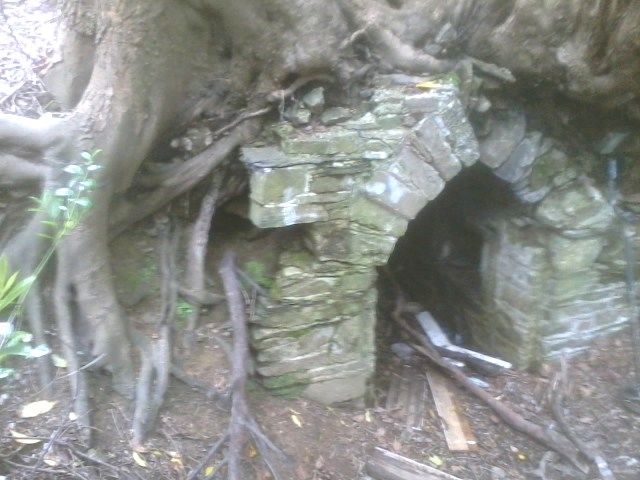 ***UPDATE***
....Its been suggested by a reader that the construction could be a possible Ice House. They used to bring snow and ice down from Dartmoor and store it in these ice houses to keep food etc fresher for longer, a sort of large fridge.