After going a week with no detecting I hit it with a vengeance yesterday. Left home at 8am and returned home at 8.30pm. Take away the traveling time there and back of 2 hours I was detecting for a solid 10.5 hours, and enjoyed every moment of it. Mind you, came home shattered, had a quick shower, something to eat and then off to work, hence why I'm doing this post this morning. Just like to say what a difference a little less weight makes on the arms, I could still have swung the Deus for a couple more hours easy. A perfect day, lots of finds and my detecting cup runneth over.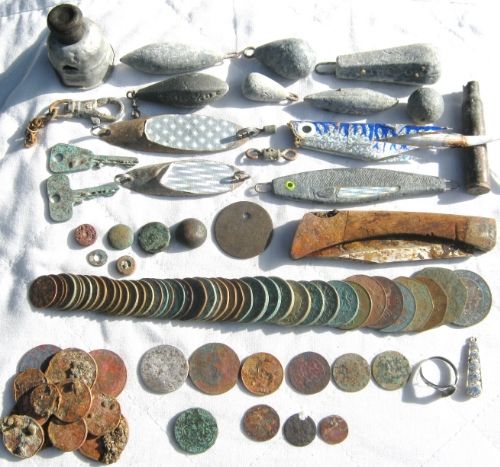 I hit Slapton Sands to give my new Deus a run on the beach, and boy did it perform well. Still being new to me I just kept the programs in factory modes and gave a couple of them a try. First of all I tried the Beach Mode, Well, to me I didn't seem to be getting much depth but I will say it was very quiet, a bit too quiet for me and thought I'll study this Beach Mode a bit more later. So then I tried Deus Fast, liked that a lot and I was soon pulling coins out. It performed great on the dry and semi dry sand, down on the semi-wet it wasn't too bad, a little falsing here and there, but workable. On the very wet up close to the waters edge it did false more, a bit too noisy, but I stayed on this program for a few hours enjoying it. I was finding stuff and after a week without any detecting this is what I needed at this stage. Once I had a bit of lunch I switched programs to one I like using inland, the Pitch Mode. Don't know why, but I really love the sounds of the signals in this program, so easy to tell if its a good target under the coil. Again in this Pitch Mode I was getting good depth and the finds were coming up, even on the very wet it performed great. To date, Pitch Mode is my favourite program and am sure I can make it a little better with a bit of tweaking once I'm more experienced with the Deus. I also found comparing the signal with the meter readout was spot on. It wasn't long before I was feeling confident enough to walk on past a few signals. Just hoping the Deus will perform this good on all beaches, Slapton Sands is not really sand as such, its more shingle, and its very steep making it easier for the water to drain quicker, so it will be interesting to see how it performs on a flat sandy beach.
As you can see in the large first picture above I had quite a good day find wise. There's £12.65 in spends, fishing weights and lures, a whistle from an old pot kettle, penknife and some odds and ends.. The silver ring looks to be the buiz but no markings as far as I can see. A nice earing there. Also a few foreign coins that's hard to make out. The only pre-decimal I know I found was a thuppeny bit, a sixpence and a ship halfpenny. Notice the tiny button/studs, am amazed how small a target the Deus will home in on.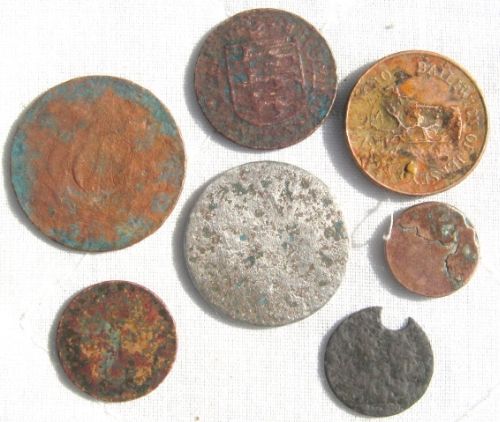 What surprised me most was the ground balancing, I thought I was going to have a problem with that. But every time I just dropped it in tracking and away I went, simples.
A lovely day, really enjoyed it and am well happy with the Deus. You know what its like, you fork out your hard earned cash and want to be satisfied that you made the right decision. So far I know I have. It can only get better as I become more experienced in using it but first impressions are excellent.
Just can't wait to get out again now.