Shot back over to Slapton Sands again at first light this morning. The weather was better than the last trip so everything was set for a good days detecting. But as it always turns out, no two days are the same. I didn't do as well as the last time. I was expecting a bumper harvest but at the end of the day I didn't do too bad, plenty of targets but nothing to get overly excited about.
It was another good practise day for the Deus and I'm growing to like it more and more. The finds were more spread out today and had to do plenty of leg work, am thinking it could do with a good storm to churn it up a bit.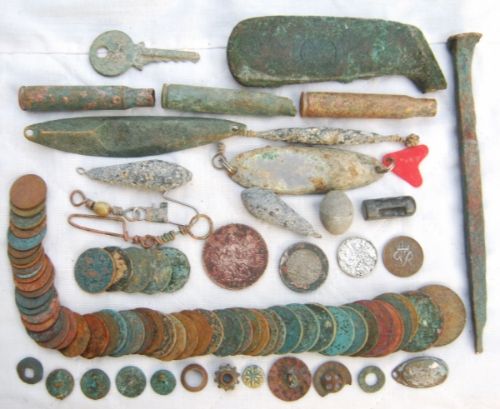 As you can see above I winkled out some more spendables, a total of £6.96. Managed some pre-decimal coins, the best being a 1933 sixpence. Also had another sixpence dated 1950, a 1966 penny, five thruppeny bits and a One Euro coin. Some more fishing gear, an old Golf Putter head, buttons and odd bits. Look at the size of that nail there on the right, imagine that going through your foot.