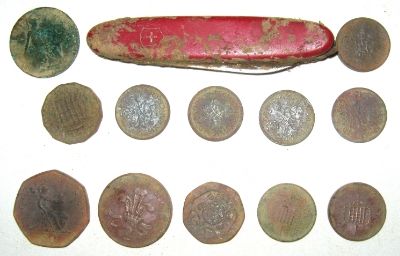 In Pitch Mode
Discrimination 25
Sensitivity 90
Frequency 12khz
Iron Volume 4
Reactivity 3
Audio Response 4
Ground Balance - Tracking.
Its no good, I just can't seem to put my new machine down. Even tho I had plenty of stuff to do today I just had to nip out for a couple of hours. This time I took along a piece of paper with some settings wrote on it. So when I set up out on the field I didn't have to remember them.
To non Deus users the above settings will not mean anything, it didn't to me a couple of days ago. Just thought after reading the instruction book again I would give those settings a go. Well, it was a pleasurable couple of hours detecting, quiet, deep and the signals were easy to distinguish between the low iron grunt and the nice clear signal.
I did manage to winkle out a few coins, a halfpenny, thrupenny bit, 5 sixpences and a few decimal.
Starting to feel confident with this machine now and looking forward to getting out again with it.