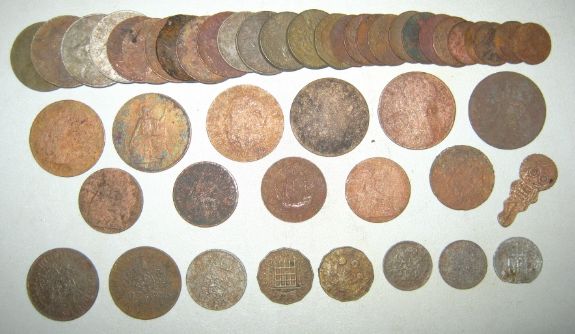 Once again I was back at the beach today. I used my Velox One as my beach machine the C.Scope CS4PI looks like its kaput after it rolled over into a rock pool.
The first thing I noticed was how sand and shingle has now started to cover the beach again and I don't think it will be very much longer before the whole beach is covered as normal. Shame that, I have really enjoyed this week detecting it.
Still, all was not lost today, it was still not completely covered to a depth where all the finds were out of reach and I still managed to dig up 47 coins pictured above. A mixture again of decimal and pre-decimal. Silvery wise there are 2 florins, 1 shilling and 3 sixpences.
I had plenty of company today, my nephew was there with his mate from work and he did well. Also a fellow member of the club I used to belong to and he also did well. Plenty of coins were had by all considering the sand is making its way back.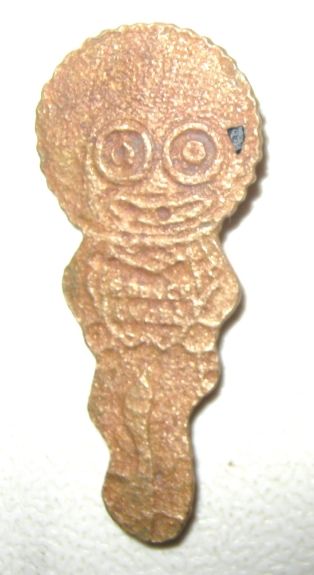 Some of you will know this little fellow on the right here. He's the badge you got from Robertson's jam.
I have just checked the weather for tomorrow and a dry day is forecast, not that any rain has stopped me this week. I've been blown to bits, soaked to the skin and had my **** frozen off. Even when my machine packed up I was down on my hands and knees searching just with my spade and propointer. So to end this weeks coin fest I may as well have one more bash.
I've been cleaning all the silver coins I have found this week and I'm looking forward to doing an end of week summary post of all my finds this past week.
Below are pictures of my detecting buddies finds from today.
Picture Left: Dave's finds consisting of a total of 18 coins - 4 georgian pennies, 9 halfpennies, 3 silver sixpences, 1 silver threepence, 1 silver shilling, a apostle spoon, silver toe ring, a silver ring with a silver coin dated 1865 set inside of emperor maximillion.
Picture Right: Tanky's finds consisted of a total of 39 coins - 1 half crown, 4 sixpences and a shilling. A silver ear ring, a normal ring, 2 brooches, one being Blackpool tower and 33 other coins.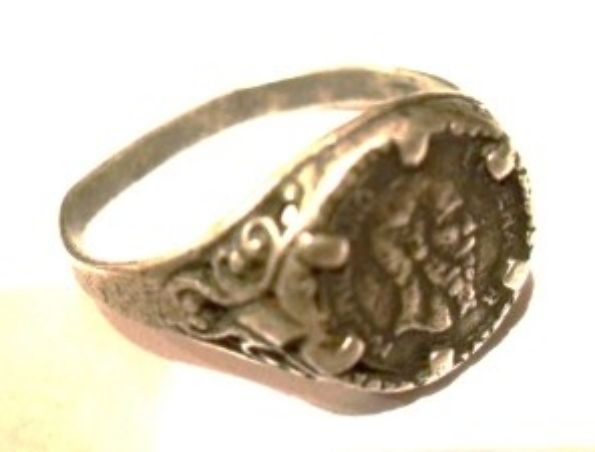 Closer look of Dave's silver ring with a silver coin dated 1865 set inside of Emperor Maximillion.