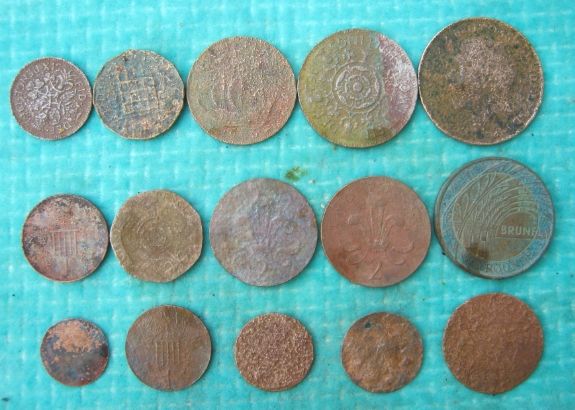 A return visit with my Velox One to the beach that was producing 90+ coins a day proved an anti climax today. As soon as I was down on the beach I could see at least a foot of sand and shingle had returned in the last 5 days since I was last there. Bedrock that was uncovered had now disappeared under sand, gulleys between rocks were now filled, to say I was disappointed would be an understatement, but, I enjoyed it while it lasted.
I was there today for 3 hours before the incoming tide forced me off. I did manage to winkle out a few coins, they are shown in the picture above. The top 5 coins are pre-decimal, a sixpence, a thrupenny bit, a halfpenny, a two shillings piece and a penny. Also shown under them are 7 decimal and 3 grots.

Also found these two pin badges which I nearly threw away thinking they were bits of tiny scrap metal. I've cleaned them up. One is of a train with the wording COUNTY OF MIDDLESEX inscribed across the bottom. The other one is plain but sure looks like silver to me. The penny is for size comparison.
As I like my non valuable silvery coins cleaned up so I can see detail I thought I'd show you a before and after pics of the 1961 sixpence and the 1962 two shillings I found today. Cleaned up with a tub of Silvo Metal Polish Wadding.
Oh well, not as many coins as I had been finding since the storms, but a pleasant few hours detecting.