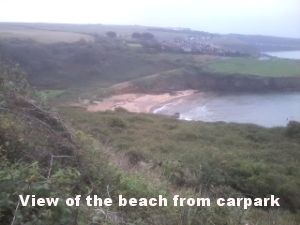 I was delighted to have a full afternoon free to myself today so made the most of it and popped over to our local beach with my cs4pi. Our beach is only a small sandy cove but has been host to the locals of Plymouth for decades. Mind you, I expect every metal detectorist in Plymouth has hit that beach one time or another, and I'm no exception.
Its only a 20 minute drive for me and I was on the beach just after 1pm. I set my cs4pi up as best I knew. I found the best setting was the right hand dial fully clockwise. and the left hand dial in the green zone were I could run quiet. And boy did it run quiet, I was very impressed
To begin with I had to detect up on the dry sand as the tide was still in. The signals soon started to come and I was digging junk after junk finds. Tent pegs, pull tabs, bottle tops, rusty nails and a whole mountain of other trash. from what I had read about the cs4pi I was expecting this. The digging was easy in the sand so didn't really bother me. Also the depths I was getting was all I had read about the cs4pi, hell I dug some deep holes. Also must say its a very light detector and easy to swing.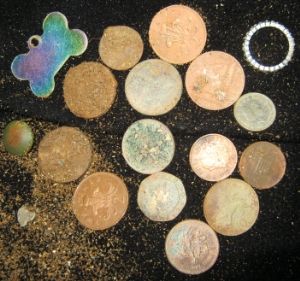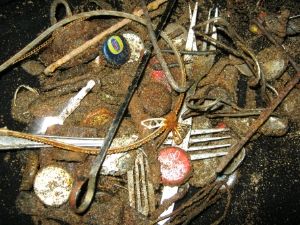 My game plan was to detect the tide as it was going out which I did. As its a small beach I was able to walk one end of the beach to the other, slowly following the tide line down. To be honest I was glad to get off the dry top of the beach as this is where a good 80% of the trash was. I did manage to winkle out a couple of decimal coins but it was the wet sand I was after.
Anyway, after a couple of hours I was well onto the wet sand. This was a lot less trashy and the odd decimal coin popped up. Finds went very quiet for a couple more hours until I was at the half way point. More bits of trash started popping up along with a few more decimal coins. Another couple of hours and the tide was well out and for the first time I was proper metal detecting the low water mark. No false signals and every time I did get a signal I knew there was something there. I did have to leave a couple of deep targets as before I could get them out the hole had filled with water and was lost.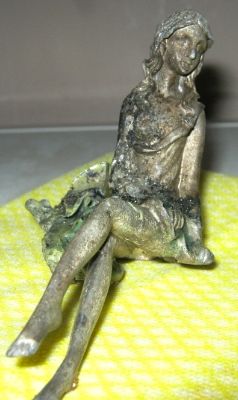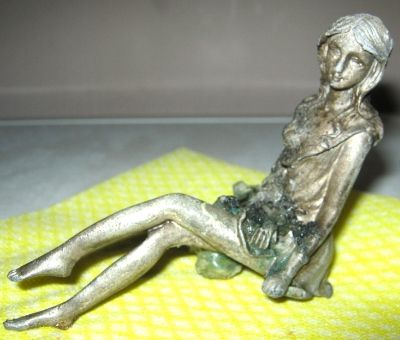 It was very exciting detecting this low water part of the beach as I knew if there was any gold or silver rings etc, this is where they would most likely be, so every signal was a heart stopper. I thought I'd cracked it with that ring in the photo, but turns out to be a junk ring. After finding a few more decimal coins and a bit more trash I had a lovely sharp signal and thought I bet its a bit of tin can. I dug it and was amazed to find it was a woman figurine. Seems to be broke off something but a surprise find. She sits 3.5 inches high and is 4.5 inches at her longest point. She's heavy and I would guess made of pewter and was attached to something once.
An enjoyable first proper hunt with my cs4pi. I had to leave just before low tide as it was getting dark and that beach is a spooky place on your own at night. Can't wait to give it another go, or maybe a different beach next time.